HCLD Outbound Training
Why HCLD and HCLD's training programs?
HCLD is a custom built training and adventure resort. Proven expertise, having conducted over 350 training programs. Team brings a collective training experience of more than 50 years. Training module for each client tailor made to suit a client's training needs. Training that is fun, with the concept of learn 'n' leisure. Residential Leadership and Team Building Camps at HCLD Vagamon, Kerala.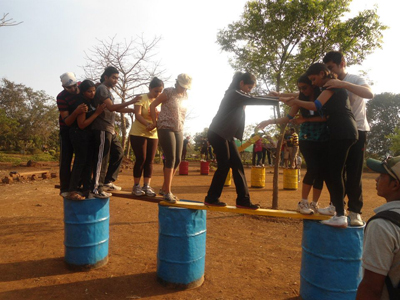 Outbound Management Programs or Outbound Training are a training method for enhancing organizational performance through experiential learning. Such programs are often also referred to as corporate adventure training and outdoor management development. Outbound Training Programs generally revolve around activities designed to improve leadership, communication skills, planning, change management, delegation, teamwork, and motivation. Participants are divided into teams and assigned tasks or activities for completion in a specified time. Achievement and performance during these activities is reviewed in group discussions to identify behaviors that enhance performance or lead to failure or decreased performance. Strategies are formulated to deal with factors that hinder, and these strategies are then put to use in the activities that follow, to test their effectiveness. In Outbound Training the facilitator challenges a group to achieve a goal, but does not explain how to successfully complete the challenge. Participants must work to find a solution individually and together as a team, and must communicate and learn from each other in order to be successful. The Learning begins with the experience followed by reflection, discussion, analysis and evaluation of the experience. At HCLD we strongly believe that outbound training can be the key element of developing a tight knit, effective and high performance teams.
Applying Outbound Training to Enhance Learning
HCLD takes pride in providing Quality Outbound and Experiential Learning Activities at HCLD Outbound Training Center Vagamon, Kerala with years of experience and qualified instructors and facilitators we aim to offer adventure activities that enhance team spirit and cooperative culture within the group. We employ a variety of Adventure and Team Building activities to conduct Outbound Training.
Training Delivery
Our areas of expertise in Outbound Training include:
Management Training
Leadership Skills Communication Change Management Giving Feedback Delegation Skills Motivation Skills Creativity & Innovation Problem Solving Working in Teams Team Leadership Team Bonding Trust Building Strategic Thinking
Personal Development Training:
Presentation Skills Emotional Intelligence Time Management Confidence Building Decision Making Personal Impact Assertiveness Skills Goal Setting Stress Management Interpersonal Skills Listening Skills Persuasion Skills
HCLD Training Methodology
At HCLD we use a focused, planned, safe and structured approach to design all our Team Building and outbound learning activities. Our Programs includes Classroom Training Sessions along with variety of Outbound, Experiential, Adventure and Team Building Games and activities. The Facilitation and Learning process includes variety of methodologies and techniques which include David Kolb's Experiential Learning Model (ELM), Learning combination Lock, Johari Window, Lateral Thinking etc. Our Facilitators work with the Learning & Development or Human Resources Department to evaluate, suggest and customize the learning objectives to deliver on the desired outcomes. The main focus with the training is to impart learning on organizational needs such as Leadership, Strategic Thinking, Conflict Management, Team Building, Effective Communication, Quality Improvement, Mentoring and Skill Development.
Options available for corporate training programmes:
Residential Leadership and Team Building Camps at HCLD, Vagamon. Residential Leadership and Team Building Camps at a venue of your choice. Corporate Sales Meets and Conferences with a value adding element of Team Building. Indoor workshops/seminars/motivational lectures and analysis at your premises.
Contact Us!
Do you have other questions? Don't worry !! Just fill out the form below and we'll get back to you as soon as possible